Soil moisture levels in the North Island are looking much more typical for this time of year. This has boosted pasture growth and confidence in areas such as the Hawkes Bay and Manawatu, however the far North remains dry. In the South Island the weather remains fairly mild for early winter, although lack of sunshine hours in some regions are affecting pasture growth. On average for the last four weeks the West Coast and Nelson are having slower pasture growth than last year, while the East Coast is exceeding year-on-year growth.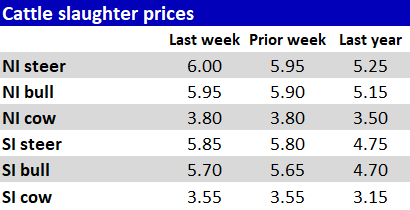 Bookings have become more current in most areas of the country, which has driven an increase in demand and schedules for prime in particular. South Island prime slaughter prices have been tracking below 2018 all year. However, reports of late winter/early spring contracts of up to $6.00/kg indicate that prices could push ahead, and things are looking positive. Confidence in the store market has lifted slightly in the North Island and heavier stock in particular have seen an improvement. In the South Island, demand remains soft for dairy-beef although there is good competition for top quality traditional beef steers.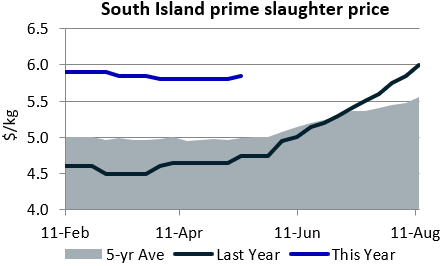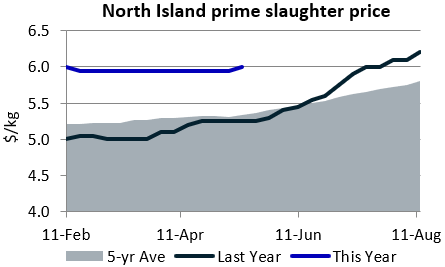 A good domestic supply of leaner grinding beef has been putting pressure strong US imported beef prices in recent weeks. This pushed the 95CL bull beef price below US$2.30/lb for a very brief period. However, the "China factor" meant that NZ exporters were able to direct exports away from the US market, last month. NZ beef exports to the US were 19,293t in May which was 8,000t below May last year (-29%). At the same time, manufacturing beef exports to China were 5,100t (+268%) ahead of last May at 7,036t. Over the past two weeks, the US imported beef prices have shown a second rally, now sitting at $2.34/lb for 95CL and $2.15/lb for the 90CL cow product. Demand following the Memorial Day holiday weekend has come back stronger than normal. On top of this, the lack of supply of imported beef into the US is weighing heavily on the market. Most are aware that NZ beef supplies will continue to drop to winter low levels. With China a dominant buyer of NZ beef, the US have had to step up to compete. This is currently supporting the upside in US imported prices.