Lamb supply has eased as farmers get to the end of their supply. This has pushed lamb prices upward slightly in the south at the top end with the range now $6.60-$6.90/kg, and in the north to $7.00-$7.30/kg. While it is early for chains to be shifting into 'winter mode' there are some chains running only 3-4 days a week. Like cattle, space may get tighter over the next couple weeks with Easter bringing shortened killing weeks. The latest slaughter statistics to March 9 show that the total lamb kill for both islands has reduced the gap between last years figures due to weeks of high killing numbers. The average carcass weight remains to be higher year-on-year with an average weight of 18.75kg.


The latest wool sales in the North Island saw good levels of demand for lamb wool and good style second share wool, particularly from local buyers. In the middle of March, lamb wool micron 29 2/3 lifted 66c/kg to $6.05/kg, before easing at the end of March to $5.94/kg. The latest South Island sales had large offerings of end of season ewe and lamb wool. Most microns saw strengthened prices at the beginning of April with the market largely favouring sellers.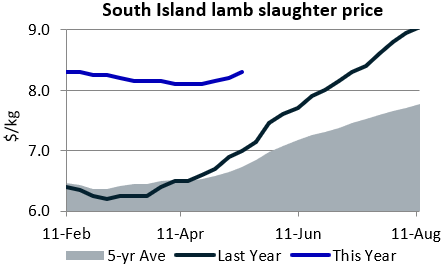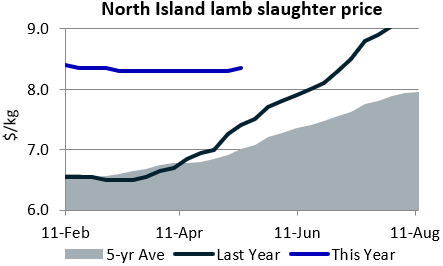 Our Partnership
Heartland Bank is proud to have teamed up with AgriHQ earlier this year to form a joint partnership.
Together we were able to launch the AgriHQ Finisher Tool which was developed with the intention to make livestock buying decisions easier for farmers today.
To read more about our partnership and the AgriHQ Finisher Tool click here.
Commentary provided and written by AgriHQ and the opinions expressed in the commentary are solely those of AgriHQ not necessarily those of Heartland Bank.
The team members at AgriHQ know agricultural markets inside and out. AgriHQ's full range of regular reports delves deeper into market intelligence to provide farmers with valuable insight they can capitalise on. Explore the intelligence you might be missing out on now at AgriHQ.co.nz/farmer