Winter has made a return across the country in the last fortnight, bringing wet and cold weather. This means it has got a bit wet underfoot in places, and pasture growth is slow. There has been some snow in Southland, although farmers are still fairly positive for now due to the favourable start to the winter. Across the country supplementary feed levels are generally comfortable and baleage is mostly around $70-$85 an for average quality bale, with Northland a little higher at $80-$90.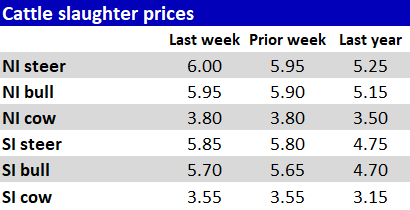 In the North Island, processors are operating on limited capacity due to a few major plants offline with winter maintenance, although supply is still very slow. This has meant that some plants have a small backlog while others are needing to hunt around for cattle. While in the South Island the kill is mostly current. Cow and bull supply remain particularly quiet in both Islands with a wide range of prices being reported. Prime and local trade have continued to lift across the country to now sit around 20-40c/kg above year-ago levels. Indications are that this will lift again in the coming week in the South Island, while the North Island may stay steady. As typical for this time of the year, good quality traditional and even dairy-beef lines are in demand in the South Island, while lesser types are difficult to move. R2 Friesian bulls are still in hot demand in the North Island which has the average 450kg indicator now up 25c/kg from last year.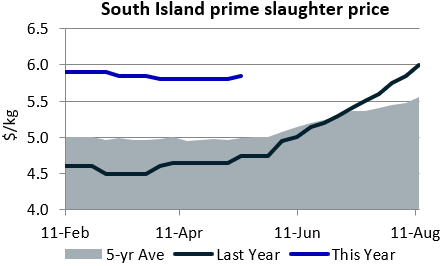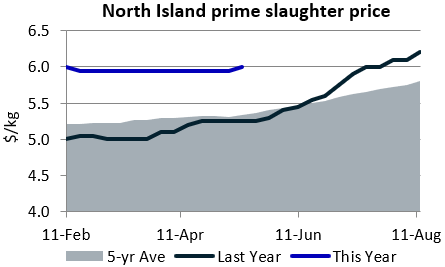 The beef export statistics for July confirm that, once again, US buyers are being edged out by a dominant Chinese market. July beef exports to the US dwindled to 9,600t which is a 50% drop in volume compared with last July. For the season to date, the US market share for NZ beef exports has dropped to 30%, down from 43% a year ago. In total, the US markets have purchased 130,400t of NZ beef which is the lowest volume since the 2010/2011 season. Meanwhile, 170,000t of NZ beef has been exported to China (39% market share up from 22% last year). Needless to say, there is a fair bit of tension between the US and China, but this isn't a case of NZ picking sides in the trade war. Chinese buyers are simply prepared to pay higher premiums to secure product. By all accounts, Chinese prices for new orders are looking good with a 5 to 10c/ lb premium above US pricing.