Livestock
Market Essentials
Brought to you by
Heartland Bank
and AgriHQ
Updated 21 September 2020
BEEF MARKET UPDATE
---
Going into the last days of September, many regions require more rainfall and warmer weather to stimulate grass growth. As it is, many farmers in the North Island are getting on top of their feed, particularly in Northland and the Bay of Plenty. The South Island has received some much-needed rainfall, but strong winds have sapped soil moisture in Canterbury. However, as La Nina has now been officially declared, it is expected that warmer and wetter weather will characterise the month of October.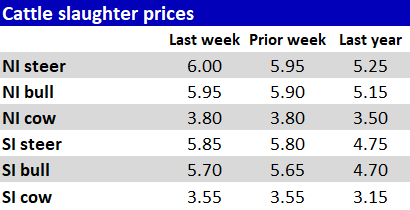 Cattle processing throughput is different region-to-region and is largely dependent on feed pressure. Areas which are low on grass have seen an increase in stock at the processors at a time when slaughter is usually down. Slaughter prices across the country have mainly held firm over the past two weeks, with some lifts reported in the North Island. The store market has softened recently. Lack of feed for this time of year has kept some buyers at bay. Heavier cattle have been easier to move as they are closer to finishing weight and do not present the same long-term risks lighter cattle do. Steers and heifers have been particularly sticky, and calf sales have been largely unrewarding due to less calf rearers being in the market. Dairy farmers are currently on the lookout for sire bulls and jersey bulls have been in particular demand.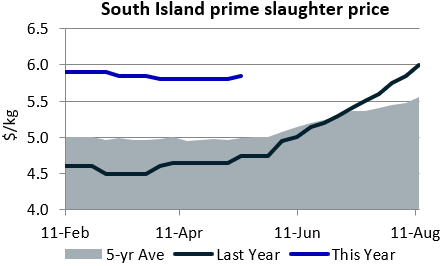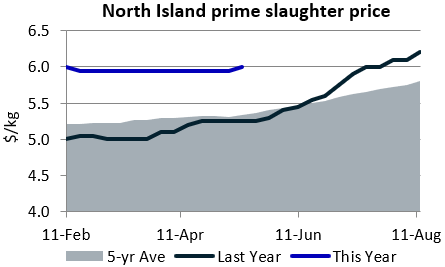 Export beef demand has been stable lately, though this is at least partly due to the small volumes being offered out of NZ. US interest in manufacturing beef is strong, holding values 10% above the five-year average in NZ dollars. Unlike last year, China is barely touching manufacturing beef, which is a bit of a concern for when NZ supply does build in late-spring. Other bull and cow cuts are difficult to sell. There're mixed results on other prime cuts, though China is again a little quieter than last year, with the US, Taiwan and Japan mostly picking up the slack.
Interested in Livestock Finance?
Apply for livestock finance online or even over the phone and we'll have an answer in seconds.
LAMB MARKET UPDATE
---
Lamb slaughter prices are mainly around $7.10-$7.30/kg in both islands, though there is the potential to make up to $7.50/kg on larger lines. Mostly old season lambs are going through the processors currently, though one North Island company released a schedule offering $8.35/kg for spring lambs 16kgCW and lighter, to incentivise farmers to cull new season lambs early. It is expected there will be a significant drop in lamb slaughter prices from October to December. The store lamb market has been very subdued lately, and ewes with lambs at foot have been the main feature of sheep sales nationwide. The price is down by about 10-13% on those of last year when lamb slaughter prices were at an all-time high. This has left some vendors disappointed, as they are hoping for $100-$110 all counted but are mostly getting $90 all counted. While this is down on year-ago values, it is holding against the five-year average.


As a whole, export lamb markets are tracking sideways, though there is a little movement within each individual market. The stronger areas have been the EU and UK, which when combined almost took as much lamb as China in August. The volume of lambs headed to the US has stabilised, though lower total NZ exports lifted their market share in August to 9% from 5% only two months earlier.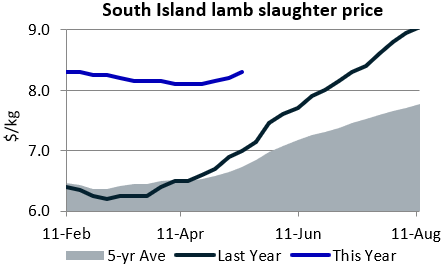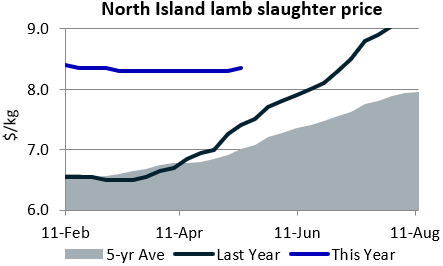 Our Partnership
Heartland Bank is proud to have teamed up with AgriHQ earlier this year to form a joint partnership.
Together we were able to launch the AgriHQ Finisher Tool which was developed with the intention to make livestock buying decisions easier for farmers today.
To read more about our partnership and the AgriHQ Finisher Tool click here.
Commentary provided and written by AgriHQ and the opinions expressed in the commentary are solely those of AgriHQ not necessarily those of Heartland Bank.
The team members at AgriHQ know agricultural markets inside and out. AgriHQ's full range of regular reports delves deeper into market intelligence to provide farmers with valuable insight they can capitalise on. Explore the intelligence you might be missing out on now at AgriHQ.co.nz/farmer
Resources for
you to use
AgriHQ Finisher Trading Margin Calculator
StockX
Your online livestock marketplace
Not sure where to start?
Interested in arranging livestock finance but not sure where to start? Contact one of our Rural Managers and they will be more than happy to help guide you through the process.