CAR LOANS
Electric Vehicle Loans
Save money and reduce your carbon footprint with a Heartland EV Loan.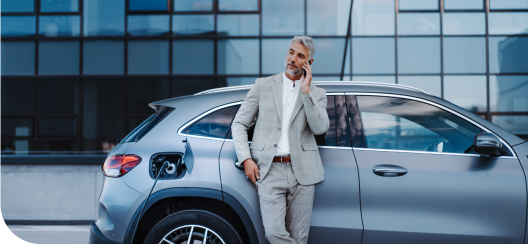 Calculate your repayments
*Your repayments have been calculated at the estimated interest rate above. Your interest rate will depend on your personal circumstances as explained here. **The total fees above include an establishment fee of $249 and a security registration (PPSR) fee of $7.39.
---
Got questions?
Click below to see the answers to some of our frequently asked questions.
What is a Heartland EV Loan and how is it different to a standard Heartland Car Loan?

A Heartland EV Loan is a loan for brand new electric and hybrid vehicles, at a preferential interest rate. If your new purchase qualifies for the Clean Car rebate, you can choose to either keep this or add the amount back into your loan.

Do you provide EV loans for used electric cars?

Yes, we provide EV finance for both new and used electric vehicles. However, our special promotional rates only apply to new electric vehicles.

Can I buy a Plugin Hybrid Electric Vehicle (PHEV) using a Heartland EV loan?

Yes, a Heartland EV Loan can be used to purchase both fully electric and hybrid vehicles. This includes electric and hybrid cars, e-mopeds and e-motorbikes.

How do I apply for the Clean Car rebate?

Once the vehicle you're looking to purchase has been registered and allocated a number plate, you can then apply for the Clean Car rebate on the Waka Kotahi (New Zealand Transport Agency) website.

You will need the vehicle plate number, a copy of the vehicle sale agreement and your bank account details. Once all the information is provided, Waka Kotahi will transfer the rebate to your bank account within 20 days. Read more about the process here.

How does the Clean Car rebate work with the loan amount?

If you want to keep the rebate, there's nothing else to do except enjoy saving or spending your government rebate.

If you want to apply the rebate funds to your Heartland EV Loan, please let us know prior to completing the purchase of the vehicle. We will set up your new loan with a 'balloon' instalment in the second month of the loan, set to match the value of the rebate.

Waka Kotahi commit to processing rebate applications within 20 days of receipt, so this will allow plenty of time for them to pay the rebate to your bank account. The rebate amount will then be paid into your loan based on the payment instructions previously provided and will reduce your loan balance accordingly.