Back to Customer Stories
Keeping the home healthy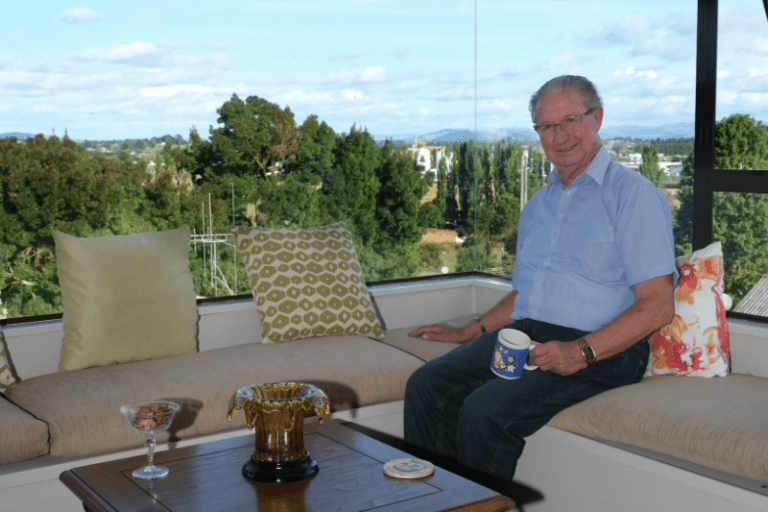 Keeping the home healthy
"We've been living here for about 25 years and it's where we want to be," says Ian.
"We bought this house for the view, and it took us several years to get it just right; so when we realised we couldn't afford some much-needed maintenance, we started looking at options."
Ian says it quickly became apparent that a reverse mortgage could be the answer, and began researching the product. He says Heartland Bank stood head and shoulders above the few other banks who were offering a similar product at the time.
It was by far the best deal, and I was really impressed at how they thoroughly consider the "It was by far the best deal, and I was really impressed at how they thoroughly consider the customer's future needs," says Ian. "It would be easy for them to just focus on getting the loan across the line, but they give a lot of consideration to how it might impact you in years to come."
He says Heartland's three promises*, combined with sound and helpful advice, made him and Irene feel comfortable making their decision.
"It felt like they were looking after our interests as well as their own, which is how it should be." With the much-needed funds in hand, Ian and Irene were able to complete all the maintenance required, including re-doing the spouting, fixing the asphalt in front of the house and carrying out some landscaping.
Fast-forward three years and Ian still calls it "one of the best decisions I've ever made". The 82-year-old is free to enjoy his days playing and umpiring lawn bowls, driving those less mobile in the town's volunteer 'Wheelchair Wagon', and belting out tunes with the local brass band.
"Life is still busy, but in a different way," says Ian with a chuckle. "The coffee breaks are more frequent, and of longer duration."
With three generations spread around New Zealand, great grandparents Ian and Irene are glad to have room when the 'kids' come to visit, and it's comforting to know their home is in good condition.
"To get a reverse mortgage, we had to commit to maintaining it, and that's what we wanted the money for in the first place – so it's a win-win."
"It makes sense for us and it makes sense for Heartland Bank – I would highly recommend that others who are in a similar situation consider taking out a reverse mortgage. Basically, we are living much more comfortably."
Ian says it's also reassuring to know that if there were an emergency or something he and Irene really need or want, there is further opportunity to leverage their reverse mortgage.
"We only borrowed what we needed, not the full amount, so if something comes up we could always go back to Heartland to see if we can borrow more."
"We've recently been invited on a trip to India with some friends and, thanks to Heartland Bank's reverse mortgage product, we have the freedom to go if we choose."
*Guaranteed home ownership until sale, no regular repayments and no negative equity upon sale.
Back to Customer Stories