Back to Customer Stories
Freeing up funds for a priceless procedure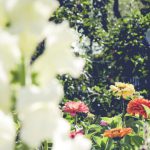 Freeing up funds for a priceless procedure
Colleen, who prefers her surname is not printed, says she had forgotten "how blue the sky is and how bright the flowers are" until a Heartland reverse mortgage allowed her the funds to pay for the cataracts operation she'd been waiting years to have done
The 68-year-old had been on the waiting list for almost seven years before exploring funding options to get private treatment. During that time, she had to give up driving due to her deteriorating eyesight, which severely limited her ability to enjoy her surroundings and integrate into the community.
"Having my eyesight back has completely changed my life and my only regret is not getting it done earlier," says Colleen.
Shortly after her husband passed away, Colleen, who was born in Ohakune but spent most of her life in Auckland, moved to Bay of Plenty to be near her brother.
"I really love being part of a community – volunteering and spending time with friends," says Colleen. "I sincerely believe that you get out what you put in, and life is what you make of it, but my eyesight was hindering my ability to do any of that."
When Colleen first started looking into Heartland Bank's reverse mortgage option, her brother tried to talk her out of it.
"A friend of his had a negative experience with a reverse mortgage from another provider years ago, and he was really concerned that I would somehow lose my home, or leave my kids in a difficult situation," says Colleen.
Colleen says her relationship manager Tracey Rudduck-Gudsell made all the difference.
"Tracey was absolutely lovely to deal with and she made sure I understood everything about the product, particularly the three guarantees," she says. "She also encouraged me to speak with my family about it before proceeding, and even sat down with me and one of my daughters to make sure she understood how it worked as well.
"Once my daughters were sure I was comfortable with the idea, they were very supportive and, shortly before my brother passed away, he also said he was reassured by what I'd told him."
Less than a year after receiving a $37,000 reverse mortgage, Colleen says her life is "back on track".
"I volunteer with Grey Power regularly, go up the gondola with the girls once a week and enjoy walks in the redwoods and surrounding areas – life is good!
"I am so happy with my decision. I not only paid for the cataract surgery, I also upgraded my bathroom and, for the first time in my life, visited the South Island to see my daughter and her family's new home in Christchurch."
Colleen says she also put some money aside in case she has to have the other eye done, and the rest is going towards headstones for her siblings' burial sites in Ohakune.
"I'm so grateful to Heartland Bank for providing a solution that has completely changed my life," says Colleen. "I keep telling friends about it – there are a lot of them who could really benefit from a reverse mortgage."
Back to Customer Stories