Refinancing with Heartland
Looking to refinance your mortgage? Heartland's simple online application and great rates could save you money and stress.Better yet, you could get a credit of up to $1,500 if you refinance onto our floating rate and stay floating for 12 months.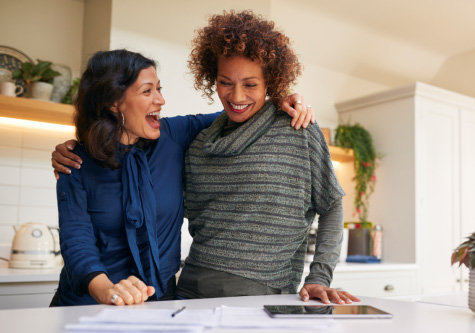 Our rates
Choose the loan type that's right for you, whether fixed, floating, revolving credit or a combination of all three.
Interest rates accurate as at 17/10/21
Benefits of refinancing with Heartland
Credit of up to $1,500

You could get a credit if you refinance all or some of your loan onto our floating rate and stay floating for 12 months.* You can also add break costs from your current provider to your new Heartland loan.

Restructure your loan

With Heartland, you've got options to split your loan across fixed and floating rates, plus you could add revolving credit to your home loan at only 2.90% p.a.

Borrow a larger amount

Heartland offers loan top-ups, meaning you may be able to borrow more to pay for minor renovations, or to consolidate other debt.
*$750 credit for new home loan customers who refinance more than $100,000 at our floating interest rate for 12 months or more. If you borrow more than $500,000 you could be eligible for a credit of up to $1,500. The loan amount can either all be on floating, or on a combination of floating and fixed.
Check if you're eligible
a NZ citizen or permanent resident, over 18 years old
looking to refinance your home and have at least 20% equity
currently living in the property
able to meet the repayments over the requested loan term from your salary or wages
able to have your income paid into a YouChoose account. We can help you open one during the application process.
a standalone, single section house that is freehold, cross lease or on a unit title
located in an urban centre
owned or purchased either joint or individually (not in a trust or company)
already built.
The home must not be:
a monolithic or plaster clad property consented before 1 January 2006.
Heartland's lending criteria, terms, conditions and fees apply.
---
How does it work?
1
You'll apply and get a decision online
2
You'll provide us your bank statements or IRD summary of earnings
3
We'll send you a letter of offer and confirm your new loan structure
4
You'll provide us with a copy of your current home loan statement to confirm the refinance amount
5
We'll confirm your identity using biometrics and open your YouChoose account
6
We'll send documents to your solicitor to sign with you, and then we'll open your home loan!
---
Calculate what you could save
Keen to refinance before your fixed term is up, but not sure whether it'll be worth the break fees from your current provider? We can incorporate your break fees into your new Heartland Home Loan so you can pay them off over time.
This calculator is a general tool to estimate repayments and the total loan cost only, and is not an offer of finance by Heartland. Our calculations are based on the information you have input, including the interest rate and loan term you selected, and are calculated at the interest rate being constant for the entire loan term. The total interest difference is based on the total interest that would be charged on your current mortgage if the rate was constant for the entire remaining loan term, minus the total interest that would be charged on a Heartland mortgage if the rate was constant for the entire selected term. Changes to interest rates and/or the repayment amounts will change this. Our quoted interest rates are subject to change. Lending criteria, terms, interest rates and fees apply.