FRANCHISE LOANS
Get unsecured funding for your franchise
We provide lending for a variety of franchises, including cleaning, mowing, gardening, courier runs, accountancy and professional services. If you have good credit and have been in business for over two years, whatever the franchise, our simple, quick online application could help.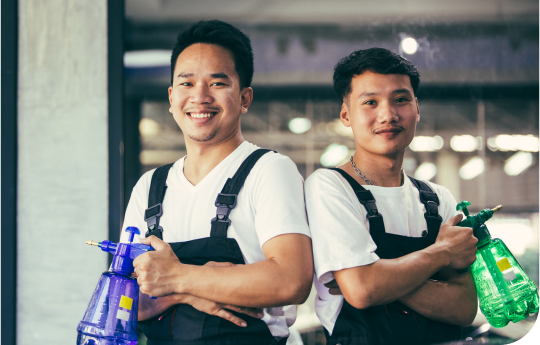 Are you eligible?
If you meet the criteria below, you could be eligible for a loan.
I'm a registered business, partnership, sole trader or a simple trust.
I'm a NZ citizen or permanent resident.
I have valid ID and proof of my address.
My business is located in New Zealand.
My credit looks good – I have never been bankrupt and I haven't had any unpaid defaults in the past five years.
---
Calculate your repayments
Apply in minutes, get a decision in seconds.
Take care of your business loan anytime, anywhere.
Manage your loan repayments, generate statements and keep up with transactions on the go with ease.
---
Questions? We have answers
How long can I take out a franchise loan for?

Heartland offers loan terms of up to five years with regular principal and interest repayments.

What is the interest rate for a franchise loan?

Interest rates start from 12.00% p.a.

Is there a minimum and maximum loan amount?

Yes, the minimum loan amount is $10,000 and the maximum loan amount $100,000.

Can I take out a loan if I don't bank with Heartland?

Yes, you do not need to be an existing customer with Heartland to apply for a business loan.

How do I receive my funds once my loan has been approved?

Once all documentation is finalised, our team will work with you to organise payment for your franchise loan on an agreed date.