Heartland's women #BreakTheBias – both in and out of work
Heartland considers diversity, in all its forms, a strength. To celebrate International Women's Day (8 March), we wanted to feature some of the incredible mahi three of our Heartlanders commit to in their spare time to uplift and support women and their communities.
Kate Manihera (Pou Ārahi Kaupapa Māori): Spreading the joys of makeup through Look Good Feel Better
In her role, Kate's work centres around fostering diversity at Heartland – and in her free time, Kate volunteers with 'Look Good Feel Better' (LGFB), a charity that provides free makeup classes for women, men and teens undergoing cancer treatment.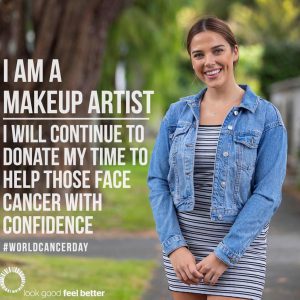 When she joined the charity in 2016 at age 18, Kate was the youngest volunteer there. It was a new era of makeup, and she was excited for the younger attendees of the canteen classes to learn the latest makeup trends from someone similar in age.
You'll often find Kate helping out at the regular classes or facilitating the Canteen classes, in which everyone gets to know one another, plays with makeup and has fun.
"The 2-3-hour classes are a wonderful timeout for those who are undergoing cancer treatment," explained Kate. "Our class members leave with fresh tips and tricks and a bag of skincare and makeup so they can recreate the looks at home."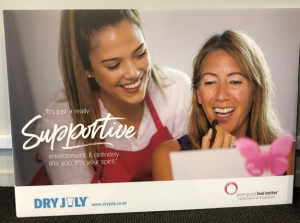 Before joining Heartland, Kate was a full-time makeup artist, so she knows first-hand how makeup can uplift someone's confidence and overall wellbeing.
"I've always believed in finding what you're good at and using it to help others, so when I learned about LGFB it was an easy decision to get involved," she said. "I treasured the one-on-one conversations I'd have with my clients and enjoyed learning their stories and playing a small role in making their day a good one. I'd leave energized, knowing that someone might feel a little better because of something I taught them."
When it comes to breaking the bias, Kate believes that wearing makeup in general is a great example of how personal choices can be misinterpreted and used against women.
"Women can be judged for wearing too much makeup, or not enough, but working with LGFB has shown me that what really matters is how it makes you feel," she said. "In a wider context, I hope women can always be free to choose the things that make them feel good and empowered – no explanation necessary."
Denny Spee (Banking Consultant): Uplifting women through a biennial variety show
When she's not supporting and consulting our customers in the Tauranga office, Banking Consultant Denny Spee can be found running the show as the Creative Producer of 'Tarnished Frocks and Divas', a 2-yearly event that provides a platform for women over 40 to show off their talents and passion for life.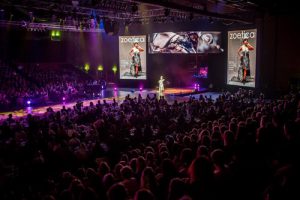 Denny, a founding member of the Tarnished Frocks and Divas Charitable Trust, has been closely involved in the biennial variety show since its 2003 inception. In the 1990's, she ran a dance school called Deneze School of Dance (DSD) where it all began.
"I became very close friends with a group of women whose daughters were dancing at DSD, and we had a lot of fun organising shows and other events," she explained. "In 2003, one of the women in our tight knit group died from cancer. Tarnished Frocks and Divas was inspired by the memory of our dear friend."
The original Tarnished Frocks and Divas show and concept was a celebration of life, aiming to join together women, mothers and friends to put on a show combining fashion, dance, acting, music, design and more. Now, nearly 20 years later, the show has grown from a local Tauranga gig to a nationally recognised event – and Denny is still closely involved in the planning, organisation and creation of the various elements of the show.
"I consider myself very privileged to get to work with such an amazing group of talented creatives who make up our production team," she said. "It's great fun to showcase our community and all the fabulous women over 40 who are courageous enough to step outside of their comfort zone and give it a go!"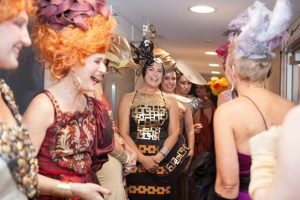 Middle-aged women are faced with the combination of both gender bias and age bias. Denny believes that Tarnished Frocks and Divas offers them a way to break that bias.
"The show provides a revolutionary platform of self-discovery, inspiration and diverse creative expression that has united the community and highlighted the talent, vivaciousness and passion of these women."
Anne Ballingall (Credit Manager): Protecting second base with the Pink Ribbon Walk
During the work week, you can find Credit Manager Anne Ballingall helping our Motor dealers get customer loans across the line. During spring each year, though, you can find Anne walking through Hagley Park in Christchurch with pink hair, a pink skirt, and a pink shirt that says 'Protect second base!'.
You guessed it – Anne is an avid Pink Ribbon Walk fundraiser for the Breast Cancer Foundation NZ and has been one of the top 100 fundraisers in the country each year. She started getting involved after one of her close friends got breast cancer – and she has no intention of stopping anytime soon.
"I've always done animal volunteering and fundraising, but about four years ago I decided it was time to do something for women," she said. "Normally I hate the colour pink, and I hate being the centre of attention – but when the Pink Ribbon Walk comes around each year, I dig out my pink, and all of a sudden my other persona comes out and I start sending out my fundraising link to everyone I know!"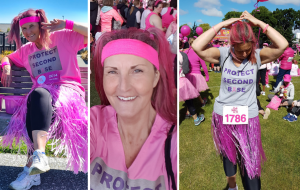 Anne is particularly passionate about raising awareness around breast cancer in communities where discussing it or doing breast checks might still be seen as taboo.
"Unlike diseases like bowel or brain or prostate cancers, breast cancer is typically really easy to detect with mammograms or even just a breast check in the shower," she explained. "In addition to raising money for breast cancer research, the Pink Ribbon Walk is meant to help educate and reach people who might not even know they should be checking for lumps, let alone how."
Breast cancer is typically thought of as something only women face – however, Anne takes every opportunity to break these gender biases.
"Men actually make up 2% of those afflicted with breast cancer, and this is something that many people don't know," she said. "I enjoy helping raise awareness around this issue, even if I'm just a tiny ripple in the pond – my ripple alone won't do much, but without lots of us making ripples, the pond will be still!"
Visit our Diversity and inclusion page to learn about more about Heartland's initiatives in this space.