Back to blog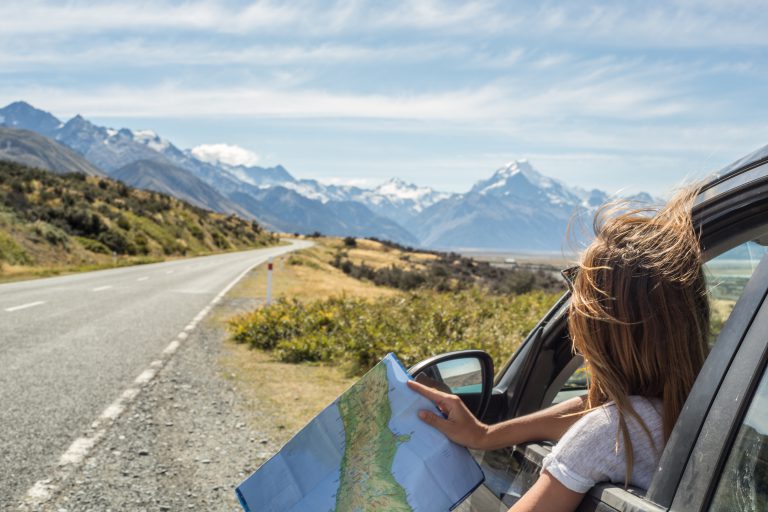 The road less travelled – New Zealand's top ten hidden gems
Folks travel from far and wide to see our stunning scenery for themselves, but it's the hidden gems that make New Zealand the unique destination it is. Get off the tourist trail and take the road less travelled into a world of stone towns, 70's ski lodges, cruisey coasts, forgotten highways and the best pizza we've had the pleasure of tasting.
Ohau
Escape the ski crowds of Queenstown and make your way north to Mackenzie High Country. Here you'll find Ohau – a stunning lake surrounded by snow-capped mountains much like it's popular counterparts. But it's the family run 70's lodge, welcoming staff and unique club fields that take you back in time to the good ol' days.
Rarawa Beach
Head north to the land of lonely beaches, away from the chaos and crowds. Wander through a forest of pines until you find the squeak under your feet and crystal clear waters of Rarawa Beach. A few hours up from Kerikeri, it's quite the drive but worth every kilometre. And no need to head back once the sun sets, with a DOC campground just back from the sands.
Port Chalmers
A short drive from the city of Dunedin, historic Port Chalmers awaits. With the old bank building, hotel and grocer still standing, it's a look into a life gone by. Now something of an artist's colony of painters, sculptures and writers, it's the cafes, op shops and galleries that have become the everyday. Take your pick from Careys Bay Historic Hotel or The Portsider pub for a side of charm with your grub.
Kuaotunu
A seaside settlement 15km north of Whitianga, Kuaotunu is more than just a stopover on the way to some of New Zealand's most stunning beaches. It's the home to a local store famous for its ice cream and Luke's Kitchen – a welcoming, eclectic vibe with some of the best wood-fired pizza we've sampled. Stop for a slice or takeaway to the tropical white sands of Otama beach just around the bend.
Haast
Strap on your sand fly repellent and make your way into the spectacular region of Haast. Situated in the heart of Te Wāhipounamu World Heritage Area, it's surrounded by wild beaches, ancient rainforest, dunes, lakes and wetlands. A region perfect for hunting, hiking, jetboating and wildlife spotting, where the population of folks is rivalled by fauna – fur seals, penguins and trout to name but a few.
Raglan
Whether you're looking for world-class surf, stunning scenery, beautiful beaches, inspiring arts or simply a good old cup of coffee, laidback Raglan offers the perfect escape from the hustle and bustle of everyday life. An unspoilt holiday destination surrounded by sea, bush and the majestic Mount Karioi. Get there before the crowds catch on.
Clyde
A tiny town in Central Otago, Clyde is a stony slice of the old days. Historic buildings line the streets, while the rush for gold has been replaced by slow-growing orchard fruits. Their long hot summers are the secret ingredient in their internationally renowned pinot noir, while their friendly residents are the secret apple sauce to their one-of-a-kind town.
Riverton
Forty kilometres from Invercargill, the seaside town of Riverton is one of the earliest European settlements in New Zealand. As well as museums, artist studios and vintage shops, the fondly named "Riviera of the South" is home to a natural playground of beaches, where dolphins regularly visit the friendly locals hunting and gathering nearby.
Takaka
Located in the Nelson Tasman region, the main centre for majestic Golden Bay is a treat in itself. Though surrounded by stunning nature, it's the quirky community that makes this town truly unique. Mix and mingle with the locals at their friendly cafes, art stores, museums, movie theatres and shops.
Whangamomona
Whangamomona is a small town that lies on State Highway 43, also known as the "Forgotten World Highway". What's unique about this little village is the local population – and the winner is not always a human, with a goat being elected several times. You can even take your passport there to get it stamped.
Need some wheels to get off the beaten track? Chat to your local car dealer about your vehicle lending options or find out more about vehicle loans here.
Safe travels, from the MARAC team, at Heartland Bank.
Lending criteria, fees and charges apply.
Back to blog